Hand-painted Mandalas by Barry Stevens
I set up this site handpainted.mandalas.co.uk to showcase the Beautiful, Colourful and Luminous hand-painted mandalas of Barry Stevens.
I have been painting mandalas for almost fifty years and have an extensive collection of originals for sale which I present in the form of four galleries.
Each gallery has twelve or so hand-painted mandalas in it. When you click on the image it links to a page with a larger image and further details. Gallery one, two, three, four.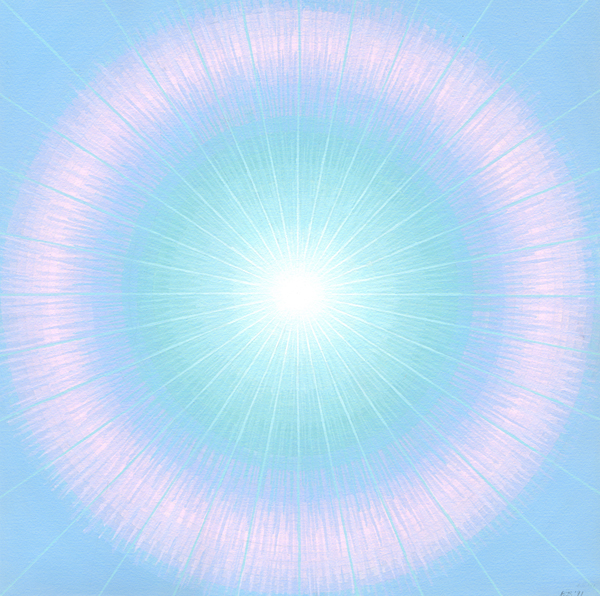 Mandalas are universal images which can be found all over the world and beyond. They exist in the West, notably in the rose windows of cathedrals, and other forms of sacred art. The mandala has been explored and developed to an exceptional degree in the East, especially in the Tibetan and Indian cultures and they are widely used in American Indian rituals. They occur abundantly in nature from the infinitely small as in atomic structures to the infinitely large as in galaxies. In recent years they have become well known in the form of Crop Circles and Sand Mandalas. I paint in acrylics on thick watercoloured paper and sell the mandalas framed or mounted. I do the framing myself and use aluminated silver and perspex which is often non-reflective. Further details available on request.
Buying artwork online is fine though it is unlikely that the image online will do full justice to the artwork in question. If you would like to visit my gallery in person you are very welcome to do so. For full details, I refer you to Shunyata Gallery named after a series of hand-painted mandalas I originally designed in the '90s.
I would be happy to hear from you if you would like to make contact.